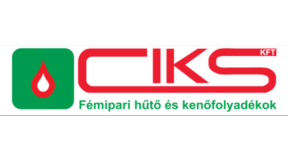 "Service is more important than profit.
The profit is not the target, but the result of service."
(Henry Ford)
CIKS Ltd. was established as a 100% Hungarian owned company in 2005, dedicated to provision of quality industrial services. Our team has decades of experience in the lubricants-, and machining technology market. From the beginning we stive for provision of high quality services combined with the sales of products with advanced technical content. Our Company is marketing quality products that meet the latest HSE regulations and that affect the environment in the least possible way. Our aim is to continouosly develop technologies that load our environment with minimized hazardous waste. We are proud that over the years we became a  dominant player of the Hungarian industry. Our primary goal, besides selling our products, is to provide comprehenshive industrial services that meet the most advanced requirements of our clients. With this endaovor we support our partners in achieving their business targets. Of course we continuously explore new opportunities for future development and innovation.
Complex quality service,
Lubricants optimization
Reduction of tooling costs,
Minimizing machine downtime,
Cleaner, liveable workspace
Reduction of the environmental load,
Waste management administration,
Lower storage costs,
Lubrication monitoring,
Provision of technical equipment, and on-site staff
Continuous availability,
provision of On-line lubrication information
Laboratory tests.
TRADE
In close co-operation with our product suppliers we provide a single source product supply and service-pack, striving for maximum satisfaction of the needs of our customer.
THE  STRUCTURE
Our commercial activity is fulfilled by competent regional sales representatives. The sales manager co-ordinates their activities and also liaises with vendors, contractors continuously. The daily activities are managed by the service engineer and service manager. The service engineer is responsible for monthly staff-training with the technical support of suppliers focusing on technological innovations. The logistics manager deals with inbound and outbound shipments and manages hazardous waste collection.
EQUIPMENT SUPPLY
CIKS Ltd. offer lubricant monitoring tools and devices that have proven their usefulness also under severe industrial operating conditions. By using them we ensure proper tracking of lubricants properties and ongoing monitoring of optimal consumption. We put these equipment at our contracted partners' disposal free of charge.
Mobil Fluid Management
The online fluid management system of CIKS Ltd. – including Barcoding option – can be adopted or linked to most customers' quality assurance systems, It provides accurate records of lubricants deliveries, consumptions and technical condition of machinery. Data of periodic servicing and lubricants changes are recorded.
By offering our system we provide a viable solution to our partners where a daily monitoring is otherwise not economically feasible. Our mobile service colleagues regularly visit our partners, complete planned service tasks and take neccessary actions. They are able to solve possible fluid related problems thanks to their competence and technical background. Beyond completion of periodic lubricants exchanges they professionally manage handling-, and documentation tasks of hazardous waste.
CIKS Total Fluid Management
The Total Fluid Management Service of CIKS is an overall cost savings program developed for our partners that fully captures all lubricants related activities. The active cooperation makes us – as a service supplier – part of the production process. With the launch of the CIKS TFM we make sure
the plant's "lubrication map", including all lubrication points, is completed
all TFM processes suited to real-life conditions are worked out.
Sufficient stock, equipment and technical staff are available.
The savings program is started, goals are set.
Lubricants are monitored and fluid changes are scheduled correctly.
The oil-, and coolant supply systems are monitored and maintained.
Proper handling of hazardous waste, and all related administrative tasks are documented in the CIKS FM Online system.
Reporting of activities and their analyses are carried out.
We have references ranging from the automotive-, through the energy industry all over the country.
High Level of Service and Quality
QUALITY AND ENVIRONMENTAL PROTECTION
We strive to make our products and services to possess the best environmental properties on the market. Our environmental-, and general QA activities have been certified according to ISO 9001, ISO 2000 and 14001 standards. By holding these certifications, we are also committed to continuous improvement of our quality work and environmental services.
Beyond the sales of quality lubricants and coolants we also offer our expertise to help you achieve your plant's optimum performance concerning the use of lubricants.
Our free of charge services significantly contribute to the reduction of your costs and environmental impact of industrial lubricants.
SERVICES contributing to successful COLLABORATION:
expert advise, assistance in selection of lubricants,
elaboration of full-, or partial lubrication charts.
SERVICING OF LUBRICANTS:
Full monitoring of lubricants,
monitoring of emulsion systems' condition, cleaning, coolant changes,
monitoring of lubricating oils, cutting fluids, filtration, fluid changes,
On-site-, and laboratory tests.
ENVIRONMENTAL SERVICES:
collection of used oil, emulsions and oily waste with own licences,
technical support for environmental compliance.
LOGISTICS SERVICES:
transport of products to the production facility within 2 working days,
Emergency delivery of goods within 24 hours,
Consignment store.
TECHNICAL SERVICES:
Provision of handling-, and control devices and equipment for lubricans
Lubrication management consulting,
Professionals training of end-users, meeting tailored demands,
Free laboratory checks at our manufacturer's laboratories.
Metalworking Fluids Water miscible coolants       
Mineral oil based
Semi synthetic
Fully synthetic
Non-water miscible coolants for machining operations      
Cutting oils
Honing oils
EDM oils
Forming operations   
Cold forming operations, deep drawing oils
Semi-hot and hot forming operations
Minimal Quantity Lubricants (MQL)

Slideway oils
Machine oils
Hydraulics
Normal hydraulics
Fire resistant hydraulics
Biodegradable synthetic hydraulic fluids
Industrial gear oils
Compressor Oils
Turbine Oils
Transformer – and insulating oils
Heat transfer oils
Cylinder Oils
Multi-purpose oils
Greases
Multi purpose greases
High performance additivated greases
Petroleum-based special greases
Synthetic greases
High-and Low temperature greases
Adhesive grease
Biodegradable Greases
Pastes
Suspensions
TECHNOLOGICAL PROCESS MATERIALS
Anti-corrosion materials
Water displacing corrosion inhibitors
Water-soluble corrosion inhibitors
Anti-corrosion oils
Corrosion protection greases
Heat Treatment
Quenching oils
Synthetic quenching fluids
Heat Treatment
Quenching oils
Synthetic quenching fluids
Industrial washing material
Water miscible washing agents
Organic Solvents
Cleaners, degreasers
System cleaners
Fungicides
Bactericides
pH booster additive
Lubricity improvers
Anti-foam additives
The Brands
In Our Portfolio
Our product range covers all needs of the Hungarian industry, from the simplest to the most demanding-, most modern technology. With products from all of these brands we are in the position to offer high quality solutions for any application of any industry sector.
These brands grant us an ever growing position in Hungary, among international oil companies and cutting tools manufacturer brands, represented int he country.
Our products are delivered directly to the customers. Our safe storage and shipping capacity in Hungary ensures that our customers are supplied with the goods quickly and accurately throughout  the country.
We managed to win our Partners' trust with provision of high quality products and services, and by a fair business conduct.
Thank You For Your Attention!
Your CIKS Sales and Service Team